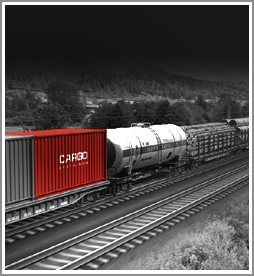 Written by our personal injury lawyers in Charlottesville
Whether you are a current railroad worker at Buckingham Branch Railroad or a retired rail employee from Charlottesville, Augusta County, Waynesboro or central Virginia, you may be experiencing breathing problems. Even if you are not currently experiencing breathing problems, these may be in your future.
Why? Decades of work on the railroad means that you probably have been exposed to a number of harmful substances that cause breathing problems.  Our personal injury lawyers in Charlottesville call them invisible injuries. These are significant railroad occupational injuries for which an injury claim under the Federal Employers' Liability Act (FELA) can be made. Here is a list of some things that you may remember only too well from your days on the railroad. You may even be exposed to some of them today. All can be the cause of breathing problems for railroad workers.
• Asbestos
• Ballast dust
• Welding fumes
• Diesel exhaust
• Chemicals
• Radiation
• Sand Dust
All of these harmful substances can cause occupational injuries to rail workers at Buckingham Branch Railroad . Sometimes this type of occupational railroad injury takes decades to become apparent. For example, if you were exposed to asbestos even just a few times, you may not have any problems for many years. This is because asbestos disease takes many years to develop inside your lungs. The worst type of asbestos disease is a cancer known as mesothelioma. Unfortunately, asbestos related disease can even affect the family members of rail workers. This is because the asbestos fibers can travel from the railroad workplace to the rail workers home on clothing or in their hair. The spouse and the children of the railroad worker in Charlottesville, Augusta County, Waynesboro and central Virginia may then be exposed to asbestos fibers. We are just beginning to see cases where the children of railroad workers from decades ago are now developing an asbestos related disease including mesothelioma.
Because the exposure to the harmful substances such as asbestos, ballast dust, or diesel exhaust may have taken place many years ago, it is important to work very closely with your railroad injury lawyer to determine what type of exposure you had and how it can be proved in a lawsuit. It is also important that your doctor understands and has a history of the exposures you had to various harmful substances while working on the railroad. Many doctors recognize that a person has Chronic Obstructive Pulmonary Disease (COPD) but do not link it to the workers job because the doctor doesn't know about work conditions for a railroad worker. The railroad worker must tell the doctor about their work conditions in order to get a correct diagnosis. The personal injury lawyers at Wilson & Hajek can discuss your work history and submit an accurate history for the doctor. You can call and discuss your occupational injury with us at (434)-202-8181.
Railroad workers can collect for injuries. Call the law firm of Wilson & Hajek.
Personal injury lawyers in Charlottesville serving Buckingham Branch Railroad employees in Augusta County, Waynesboro and all of central Virginia.